Workshop


Workshop on Controversies in EEG Source Analysis
August

20 - 22

2014, Chengdu, China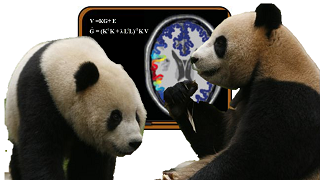 "I used LORETA to find the Bamboo Related Potential"

The organizers of the workshop are:
Dezhong Yao (Key Laboratory of Neuroinformation of the Ministery of Education of China in Chengdu, NIL)

Daniele Marinazzo (University of Ghent, UG)
Pedro A. Valdes-Sosa (Cuban Neuroscience Center, CNEURO)

A group of productive and opinionated researchers who are at the frontiers of EEG source Imaging (ESI) will gather together to discuss issues such as:
-- Are there monopoles in the brain, and if so what impact to the have on ESI?
-- Is there is a best EEG reference and does it matter for ESI?
-- What is the best way to measure brain connectivity in ESI?
-- What if any, will the impact of Neural Field theory be on ESI?

To make things more interesting, the following data sets will be provided for analysis before, during and after the workshop at the following site: Data Exchange (for registered participants)

The data will consist of
-- Simulated EEG with a given connectivity pattern from an idealized brain that can be represented on a plane
-- Rat data with EEG and fMRI (the latter to be revealed at the workshop itself)
-- Monkey simultaneous 128 channels ECoG and 10/20 system EEG
-- Human EEG, MEG data and Intracranial recordings

Researchers who will be present during the workshop and contribute to the special issue are:
Anna Custo, Jorge Bosch-Bayard, Claude Bédard, Fabrizio de Vico Fallani, Daqing Guo, Stefan Haufe, Xu Lei, Daniele Marinazzo, Cu Peng, Dimitris Pinotsis, Jorge Riera, Andreas Spiegler, Pedro Valdes Sosa, Dezhong Yao.
A number of other colleagues will contribute to the workshop by email or using the forum: Forum for discussions (for registered participants)
Researchers who have already agreed to be "off-site" participants are:
Guido Nolte, Christian Bénar, Martine Gavaret, Jean-Michel Badier, Pedro Valdes-Hernández, Pedro Ariel Rojas, Mayrim Vega Hernandez and Lidice Galan.

As a result of the discussions before, during, and after the worskhop, we are planning for a special issue of the journal "Brain Topography": Open to all registrants