Participants


Organizers:

Dezhong Yao:

Dr. Yao got his Bachelor degree in Physics from Southwest University at Chongqing (1985), Master degree from Zhejiang University at Hangzhou (1988), and PhD degree at Chengdu University of Technology (1991) and at Aalborg University (Denmark) (2005). Since 1991, he has been a postdoctor (till 1993) in electromagnetic field and a faculty member in Biomedical Engineering (since 1993) at UESTC. He was appointed as a full Professor in 1995, and a Cheung Kong Professor in 2006.He is the founder of the School of Life Science and Technology (2001 - to date), the National International Joint Research Center of NeuroInformation(2013 - to data) and the Key Laboratory for NeuroInformation of Ministry of Education (2008 - to data). The Team Leader of the National "111" Project (2012-2016).

Pedro A. Valdes-Sosa: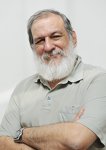 Dr. Valdes-Sosa graduated as an MD from the University of Havana in 1972, as a Ph.D. in Biological Sciences in 1974 in the National Center for Scientific Research and did his postdoc at NYU. He started his work on EEG analysis in 1969 as part of the team that developed the first Cuban computer. He is a co-founder of the Cuban Neuroscience Center CNEURO (1990) and the Cuban National Network of Clinical Neurophysiology (1983), and is the coordinator of many of CNEURO's international collaborations. His main area of expertise is analysis methods for Neuroimaging, especially Electrophysiological Source Imaging, EEG/fMRI fusion and the evaluation of Brain Effective Connectivity. He organized the Cuban EEG Brain Mapping project in the '80s and the multimodal Cuban Human Brain Mapping Project in the past decade. He is currently Meeting-Liaison of the Organization for Human Brain Mapping. He has published more than 230 peer reviewed articles since 1969. Seventy seven of these publications have been in the period 2001-2010 with an h factor of 33. Currently he is the General Vice-Director for Research at CNEURO, is a Senior Researcher, Senior Professor, and Member of the Cuban Academy of Sciences.

Daniele Marinazzo: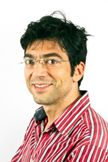 Dr. Marinazzo got his PhD in Physics at the university of Bari, Italy, with a thesis on the analysis of synchronization and predictability of biological time series. He was then a postdoc in the lab of Lyle Graham, CNRS, Paris, on a project mixing experiment and theory to enlighten the connection between biophysics and function in the cortex. He is currently a professor in the department of Data Analysis of the Faculty of Psychology and Pedagogical Sciences of the University of Gent, Belgium. He studies new techniques for the analysis of physiological data rooted in theoretical physics and machine learning, with a particular focus on retrieving brain connectivity form the analysis of neuroimaging data.
Participants (Oral Sessions):